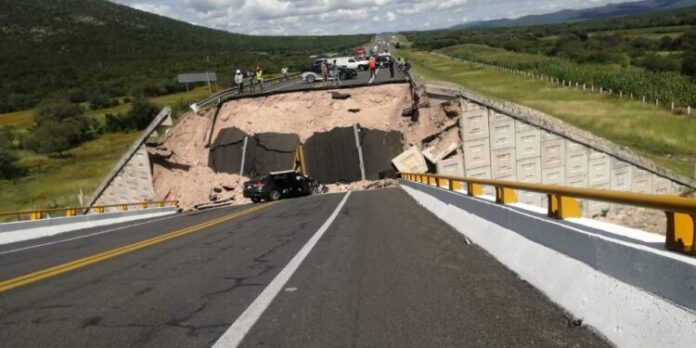 At 2:00 p.m. The report was issued to SLP Public Security elements about the collapse of a bridge on the Cerritos-Tula highway. So far a deceased person is reported.
This Thursday, September 30, around 2:00 p.m., Rioverde municipality authorities reported the collapse of a vehicular bridge located at kilometer 2 of the Cerritos-Tula Super Highway, leaving as a balance, in addition to the damage, a person deceased.
In this sense, immediately, elements of the fire department of the municipality of Rioverde, as well as of Public Security, received the first report that was attended by personnel of this agency and other instances close to the place
According to the first information issued by the State Public Security Secretariat, the vehicular bridge was being repaired since the last state administration, and at the time of the collapse, personnel was working on said work.
Meanwhile, elements of this agency, reported that a woman was driving her vehicle and that she crossed the place at the time the structure collapsed, which was reported as deceased. Also, four employees of the construction company are injured.
It is expected that the authorities of the State Board of Roads give more details of the conditions in which the work was located. Meanwhile, vehicular traffic in both directions was closed. Take precautions and avoid the area.
It should be noted that said stretch of the road belongs to the state jurisdiction of San Luis Potosí, concessioned to the Potosino Infrastructure Group, and the construction company in charge is called QUID
Source: liderempresarial.com