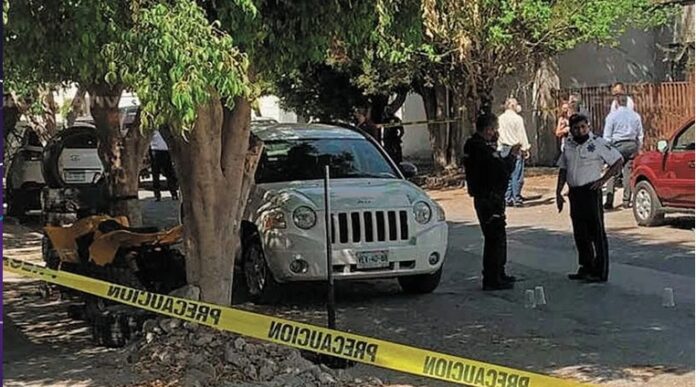 San Luis Potosí, SLP.- San Luis Potosí is the second most dangerous city in the country, according to the National Victimization Survey on Public Safety (Envipe) 2021, carried out by INEGI. 
According to the measurement, which offers a balance for 2020, the capital of Potosí has ​​a rate of 37,400 victims per 100,000 inhabitants, only below Toluca, capital of the State of Mexico, with 38,300.  
San Luis Potosí is above CDMX Oriente (35,400), Guadalajara (35,100), CDMX Sur (34,100) and the Valley of Mexico (33,600).  The list of the 10 most dangerous cities is completed by León (32,800), CDMX Poniente (32,500), Puebla (32,300) and Oaxaca with 31,800 victims per 100,000 inhabitants.  
In contrast, the cities with the lowest rate were the capital of Veracruz, which had 14,600 victims per 100,000 people, and Tampico, with 17,100.  
Inegi explains that the rate of victims per 100,000 inhabitants is one of the main indicators generated with victimization surveys and that it is also known as Crime Prevalence.  
In 2020, in the state of Potosí, the number of victims increased 21.1 percent compared to 2019. In the year of the pandemic, there were 24,265 crime victims per 100,000 inhabitants, against 20,042 in the previous year.  
According to Envipe, the most frequent crime in the state is extortion, and the perception of insecurity reached 81.6 percent of the inhabitants over 18 years of age, above entities such as Michoacán (79.5%), Guerrero (77.3%) and Jalisco (76%). 
The highest rates nationwide are registered in the State of Mexico (91.3%) and Mexico City (85.3%).  ENVIPE estimates at the national level that 38.6% of the population aged 18 years and over felt safe walking around their home at night, in women it was estimated at 31.1%, while in men 47%.  
In San Luis Potosí this proportion was lower since only 37.0 percent of the population declared that they felt safe when walking at night around their home.  The perception of insecurity in the state is linked to the increase in the incidence of crime, especially in crimes committed with violence such as robberies of pedestrians, businesses, vehicles and, of course, homicides, many of them linked to organized crime that is customary abandon the bodies of their victims on public roads.
Source: Plan Informativo