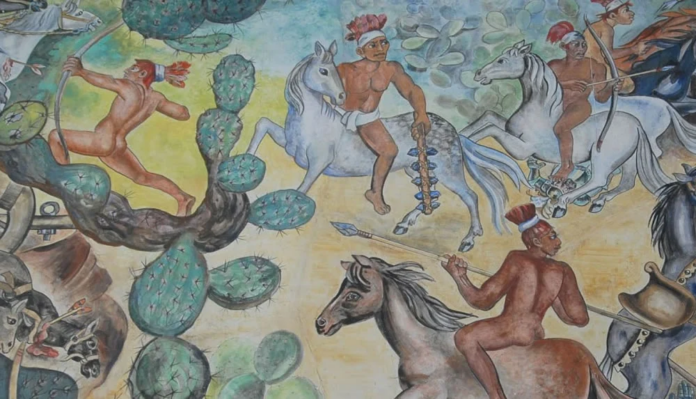 The word Matehuala was used by the Guachichiles to indicate that they were at war. Currently, it is the name of a little-known destination in San Luis Potosí.
Matehuala, San Luis Potosí, land of Guachichiles
In San Luis Potosí is Matehuala, a little-known town that was inhabited by the Guachichiles; in fact, the name of this destination is due to the fact that Matehuala was the word that said group used to indicate that they were at war. At the same time, its translation is "do not come!", That is to say, it was a warning. Learn more about this destination!
Its landscape is semi-desert in character and has a large presence of cacti. The municipality was founded by Cayetano Medellín, together with families of indigenous Tlaxcalans, on June 10, 1550. However, for a long time, they had to face the fierceness of the indigenous people who inhabited it.
In 1591 two settlements were established. The first was Ypoa and the other was Matehuala; both belonged to indigenous people known as Guachichiles. According to an article by INAFED, the Guachichiles "were completely savage, they walked naked and the women only wore deer hides, it is said that they liked to be colored and were extremely cruel."
The fight against the Guachichiles, and in general the rest of the ethnic groups known as Chichimecas, represented an extremely violent episode in the history of Mexico. However, as those groups were depleted, great colonial constructions emerged, such as haciendas, large houses, and other buildings.
It is worth mentioning that, as in many other places, in Matehuala the mining activity also had great relevance since the wealth extracted from the Real de Catorce mines benefited it. Currently, thanks to the historical, architectural, and cultural heritage that this municipality has, it is ideal for a good getaway. Discover what to do during your visit to this magical destination!
What to do in Matehuala?
1. When entering the town, pay attention to the welcoming arch as well as the Cerro del Fraile, which can be seen from practically anywhere in Matehuala.
2. Discover the Cathedral of the Immaculate Conception. It has a beautiful Neo-Gothic and Neo-Byzantine style and is inspired by the Sanctuary of Saint Joseph, which is in Lyon, France.
3. Visit the Arista Market. Here you will find beautiful handicrafts made by the hands of the region and various typical sweets (such as natillas, glories, the famous Sevillanas, and if you are lucky, tuna cheese it is made with tunas from the cardón nopal).
4. Take a relaxing walk through the Plaza de Armas, a perfect place to enjoy the afternoon and a delicious coffee in the nearby businesses. In addition, there is also a nice kiosk where you can take a souvenir photo.
5. Among the emblematic buildings that you will find in the center of the town, in addition to the Cathedral, is the Municipal Palace and the Manuel José Othón Theater.
Matehuala Hotels
Royal Mine
This beautiful hotel is located just 15 minutes from the historic center of the City (Juárez 401-A) and here you will find all the necessary services to enjoy a safe and comfortable stay. The cost of a single room per night is $ 1450 MXN.
hotelminareal.com
Park Hotel
Elegant in appearance, in this hotel, you will find all the necessary comforts. In addition, it has two restaurants and an executive lounge. The approximate cost of a single room per night is $ 1150 MXN.
delparquehotel.com
Pet Friendy Hotels