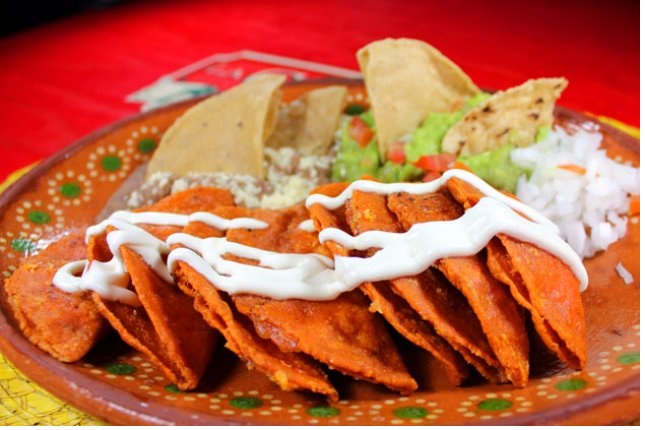 Enchiladas Potosinas are prepared with corn masa and red chile, stuffed with cheese, chili and onions. They are served with cream, lettuce and guacamole.
---
To translate video from a foreign language:
Click on the "Settings" icon, select "Subtitles/CC," and then click "Auto Translate." A list of languages you can translate into will be displayed. Select "English."
You'll see that the subtitles have automatically been translated into English. While everything won't be translated with 100 percent accuracy, the whole idea is that you can at least get a rough translation so you can easily follow along.
---
Recipe to prepare your own Enchiladas Potosinas at home
Ingredients:
6 portions Select all ingredients
75 grams ancho chile, deveined and seedless
1 cup water, hot
1 tablespoon butter
1 tablespoon oil
1/4 cups onion, finely chopped
1 1/4 cups fresh cheese, shredded
1/2 kilos corn, masa
1/2 tablespoons salt
oil, to fry
Preparation
Roast the chiles and let them soak in hot water for 25 minutes.
Puree them in a food processor with 1/2 cup of the water in which they were soaked.
Melt the butter in a small pan and add the onion. Sauté until golden brown.
Remove from heat and mix with cheese. Add 1 tablespoon of the ground chilies and mix.
Set aside. Put the corn masa into a bowl and add the rest of the ground chilies and salt. Knead for 5 minutes until the ingredients are completely mixed.
Cover with a damp cloth and let stand for 20 minutes. Take balls of dough and put between two pieces of plastic wrap in an tortilla presser. Flatten and make tortillas.
Place a bit of the cheese mixture in the center of each tortilla and fold the tortilla in half. Press the edges to seal them. Repeat with the rest of the masa and the filling. (They will come out as 12 medium enchiladas).
Heat a comal or skillet and bake the enchiladas on top for 2-3 minutes on each side.
The masa should change color when cooked. Fill a frying pan with 1 cm of oil to fry and put 2-3 enchiladas so that they are fried for 3-4 minutes on each side. Let drain on a paper towel.
Source: Kiwilmon