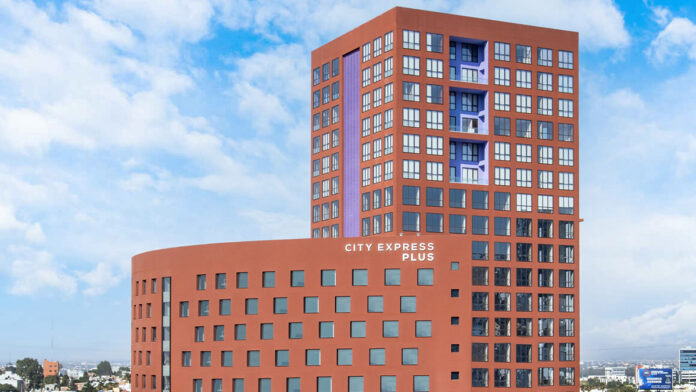 Hoteles City Express announced the opening of City Express Plus San Luis Potosí, which becomes the chain's 154th hotel. It has 139 rooms and is added to the company's offer in the state, where it operates seven properties and more than 800 rooms, generating 25 direct and 90 indirect jobs.
City Express Plus San Luis Potosí opened its doors following the strictest cleaning and biosafety protocols, which gave Hoteles City Express the CovidClean TM certification from Safe Hotels, a leading company in security and protection of hotels in the world.
This new hotel enjoys a strategic location in  Andador Plaza Lomas No. 52, Col. Lomas del Tecnológico, at the intersection of Blvd. Antonio Rocha Cordero and Ave. Salvador Nava Martínez, the two most important roads in the city where they find commercial and service corridors that link a large part of the urban area.
The services provided by City Express Plus San Luis Potosí are the characteristics of the chain and with the necessary adjustments to protect guests and collaborators in the "new normal". Among them, it has the Café Plus to enjoy a wide variety of food, rooms for work meetings and social events; It also provides valet parking, transportation within 10 kilometers and to the airport, courtesy WiFi in all areas of the hotel, laundry and dry cleaning; as well as charging centers for electric vehicles and comfortable rooms.
In this way, City Express Plus San Luis Potosí offers everything that matters during the guests' stay. In addition, it operates following the chain's sustainability guidelines for the efficient use of resources, such as water and energy, while promoting the economic development of the community.
"This new hotel is very special for us for two reasons: it was designed by the renowned firm of Legorreta Arquitectos, one of the most important in Latin America, and it is the first hotel of the City Express Plus brand in San Luis Potosí", he commented Baltazar Artero, Director of Development of City Express Hotels.
San Luis Potosí is an ideal destination for tourists who like museums and culture. Among the main attractions are the Viceroyalty Museum, the Labyrinth of Sciences, the Mask Museum, the Federico Silva Museum, the Railway Museum, the Museum of Contemporary Art, the Francisco Cossio Museum and the Leonora Carrington Museum. It also has one of the largest parks in Mexico, Parque Tangamanga, and the Zaragoza pedestrian corridor that continues to the Calzada de Guadalupe and culminates in the Sanctuary of Guadalupe.
With five brands, Hoteles City Express is one of the best options to invest in the tourism industry, by offering a complete hotel management solution, with a solid positioning and efficient marketing. With this opening, Hoteles City Express reaffirms its position as the hotel chain with the highest coverage in Mexico.
Source: nitu.mx