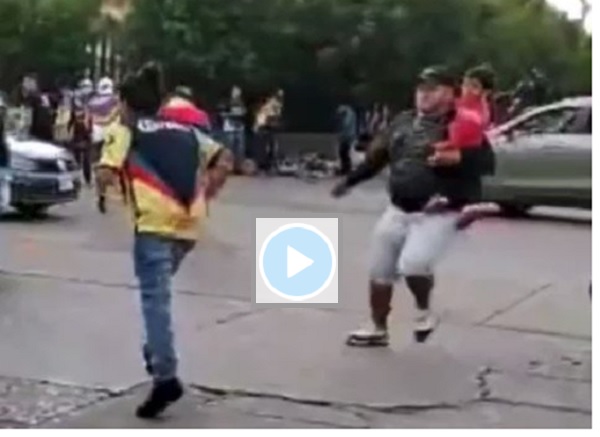 A San Luis Potosi man with a child in his arms knocked down one of the fans of the América soccer club, after the Liga MX match in the state capital.
A fan of Atlético de San Luis went viral on social networks after a video was released in which he is seen carrying a child in his arms and participating in a fight against fans of Club América, after the match that the Mexico City team won 1-0 at the Alfonso Stadium Lastras Ramírez on Sunday, October 17th.
Videos show San Luis and América fans exchanging offensive shouts, throwing objects, and damaging a motorcycle on public roads, and when the group of America "hooligans" ran away, a man in a black hoodie and cap, with the child in his arms, somehow manages to knock down one of the opponents and suddenly a horde of Potosinos start pounding on the Americanista leaving him unconscious on the floor.
Here is the footage, viewers' discretion is advised
San Luis es probablemente la plaza más insegura del futbol mexicano.

pic.twitter.com/JiL7zLIOvx

— Pambol Azteca  (@Pambol_Azteca) October 17, 2021
Source: UNO TV