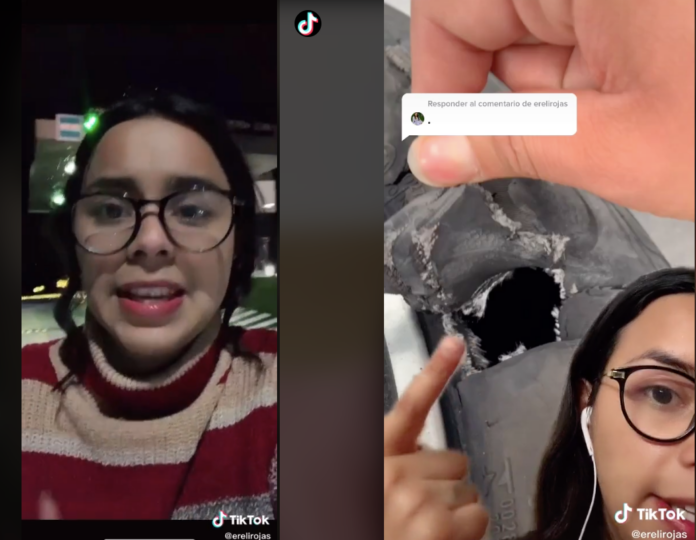 They were intercepted by a group of armed criminals, who beat them and stole all their belongings.
A young woman alerted through 'Tik Tok' that armed subjects hit and assault motorists on the Mexico-Queretaro highway
A young woman alerted in 'Tik Tok' about the new type of robbery on the Mexico-Querétaro highway "They have just robbed us, come very carefully!" 
I know that security in Mexico is a shit … but today I come to super confirm, there is no blessed hope, "lamented the woman.
He said that they were driving along the high-speed lane of Highway 57D when they felt that the truck lifted up, so they pulled up meters ahead, they had a flat tire.
Her boyfriend and his father were changing the tire when a group of armed men intercepted them and began beating them.
It took longer for my boyfriend and his dad to get off the tire to change the tire, and right away my boyfriend's sister got off, when some armed guys arrived and then they hit them, they messed with us … they hit us, they took everything from us ", the young woman denounced through a video shared on Tik Tok.
She also said that when she realized that her boyfriend and his father were being beaten, she contacted 911 to ask for help, however the call was cut off so she later communicated again.
She indicated that the operator asked her for the exact address of where she was, to which she replied that she did not know.
I don't know where I am and they are here outside of us, please find my number, see where I am, "he said.
She reported that the operator told her that they could not help her because they did not know where she was, despite the fact that she asked them to locate her location through her phone number, which they answered was impossible.
After he called 911 nine times and waited three hours, the patrol arrived to give them attention.
Friends, it is… what time is it… it says here, 12:48 it is… and as soon as the patrol has arrived, they assaulted us almost three hours ago ", the video ended.
One of the five most insecure in Mexico
Mexico has about 152 thousand kilometers of highways (Photo: Twitter @ REALEXPRESSS)
According to the National Road Network (RNC), Mexico has more than 152 thousand kilometers of highways (federal and state) that facilitate the connection of both tourists with destinations such as beaches and Magical Towns, as well as transporters with financial cities and industrial.
Many of them are characterized by their beautiful green or desert countries, but also by the large number of crimes that are registered in them. According to the Statistical Yearbook of Accidents on Federal Highways, Mexico-Querétaro is one of the five most unsafe in the country.
And it is one of the busiest (67,997 vehicles in 2019) due to its connection with various Magical Towns such as Tepozotlán, Tequisquiapan, Huichapan, Cadereyta, and Peña Bernal.
In its 185 kilometers in length , 257 crashes were recorded last year . Likewise, it registered the highest number of thefts from carriers in the same period with 2,098.
The other four are Monterrey-Nuevo Laredo, Coatzacoalcos-Villahermosa, Querétaro-San Luis Potosí and Puebla-Córdoba.
Source: eluniversalqueretaro.mx, excelsior.com.mx, infobae.com