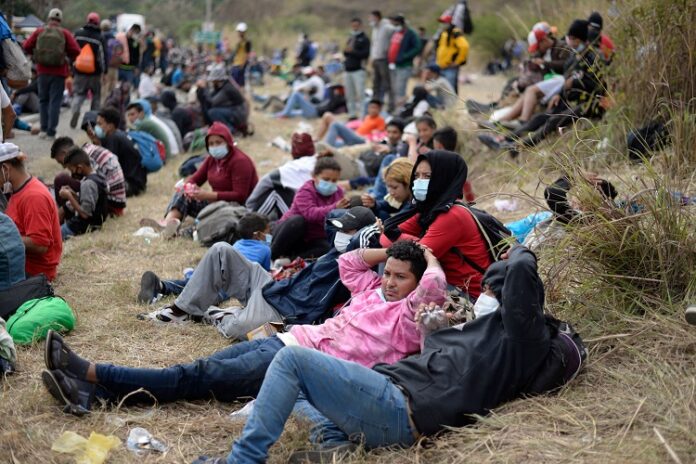 SAN LUIS POTOSÍ, SLP., March 23, 2021.- Thousands of Central American migrants continue to arrive in Mexican territory with the intention of reaching the northern border of the country, on that route there has been a significant increase in the illegal migratory flow in San Luis Potosí , with up to 200 people a day passing through these parts.
This was reported by the director of the Institute for Migration and International Liaison (IMEI), Enrique Malacara Martínez, who added that this abundant transit of migrants had not occurred since 2012, and is directly related to the new reforms of the US president, Joe Biden.
According to official figures from the United States Customs and Border Protection (CBP), in the month of February alone, 100,441 migrants were detained at the border, while in the same month of Last year there were 36,687. "People's desire to reach the United States has increased significantly, in Central America there were natural disasters and people are looking for better living conditions," he said.
Although it is not the responsibility of the State or Municipality to prevent the passage of migrants, Enrique Malacara said that they are responsible for providing all humanitarian support and ensuring that their human rights are not violated, especially when entire families are transferred, in which minors are included.
"The entities have the part of humanitarian assistance and it is something that we are reinforcing with the diplomatic authorities of the northern triangle and with a reference, such as the Casa del Migrante where all these people are treated."
At the national level, according to data from the National Migration Institute (INM) and the CBP itself, estimates that by March, migrants deported to the northern border of the country will add up to 120,000 arrests.
The Federal Government has already taken immediate action to prevent the passage from the southern border, since on March 19, two thousand elements of the National Guard, Army, the Secretariat of the Navy, the INM, State Police and Civil Protection were deployed in Chiapas.
Source; Quadratin
San Luis Potosi Post