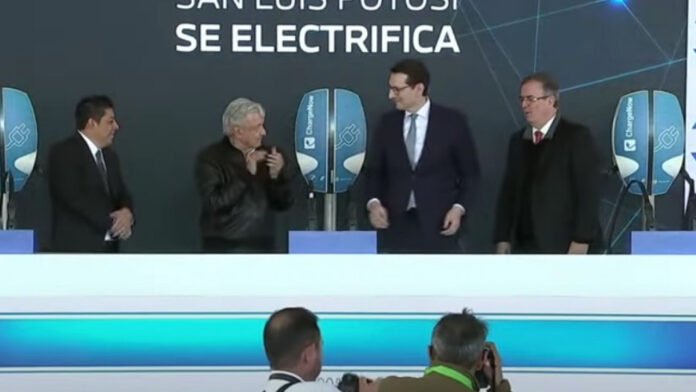 On Friday, February 3rd, the German firm BMW announced an investment of 800 million euros in its plant located in the state of San Luis Potosí, central Mexico, in an act attended by President Andrés Manuel López Obrador, who congratulated the brand.
The investment, indicated by representatives of the firm, will be used to accelerate the production of electric vehicles in the coming years.
"Today the BMW Group is taking its next steps towards electromobility, first we will bring the NEUE KLASSE, which is our future generation of electric vehicles and for which we will invest a total of 800 million euros in our San Luis Potosí plant," Milan said. Nedeljkovic, Member of the Board of Management of BMW AG responsible for production, during the investment announcement.
In addition, he indicated that together with the plant the firm will build a plant for the assembly of high-voltage batteries in which, he specified, a large part of the investment costs will be used, some 500 million euros.
The representative of the German firm said that the investment will generate, first, 500 jobs, but will reach a thousand new jobs.
In addition, the BMW Group will accelerate its production of electric vehicles, reinforcing its goal of having 50 percent of global BMW vehicle sales be fully electric by 2030.
Nedeljkovic noted that the first NEUE KLASSE model cars will roll off the production line at its plant in Debrecen, Hungary, starting in 2025, followed by the main plant in Munich, and will reach additional volumes by integrating model manufacturing at the San Luis Plant. Potosí from 2027 onwards".
In his turn, President López Obrador thanked BMW's investment and boasted of the workforce of Mexican workers.
"You are investing and we thank you very much for your trust (in Mexico) and you have assured success for this new plant," said the president, stressing that the future of the automotive industry is electromobility, which is what BMW is investing in the country.
"BMW has that vision and it is good that this new stage begins in San Luis Potosí, Mexico, thanks for the trust and investment," he stressed.
The BMW Group plant in San Luis Potosí, which opened in 2019, was designed to be highly flexible and this means that it will only take a few adjustments in construction and assembly to expand to include electric models on its production line.
"With this investment, the San Luis Potosí plant will play a central role in the transition of the BMW Group to electric mobility," said Harald Gottsche, President and CEO of the BMW Group Plant San Luis Potosí.