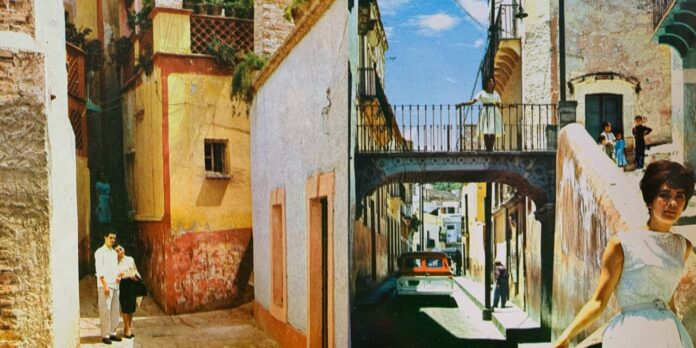 Before and after: The capital of our grandparents and ours
Something -of all- that we like a lot about Guanajuato capital is that it always manages to maintain its authentic essence (even when time passes). In this article we will travel to the past and take a tour to see what those cuévano passages looked like at that time that still make us explore and know a multidimensional world composed of a whimsical dreamlike architecture, from where the implacable force of the imagination stands out and dominates .
And boy, the city of Guanajuato is a well of surprises; there is history, color, traditions, legends, nostalgia, magic and a lot of brilliance, whose elements have the ability to trace unsuspected paths, which when we walk through them, make us go between reality and fantasy. The memories of yesterdays have been immortalized in photographs captured during the different stages of the city. In this case: the 50s and 60s.
We love (and thrill) opening the memory drawer and taking a look at vintage Guanajuato. That is why we have made a small compilation of old photographs of this magical and exhilarating city, which will undoubtedly highlight the nostalgia and amazement of many people.
Thus, in the old fashioned way, we will discover this world in Guanajuato … a world of breadth and vastness, deeply immersed in drama. A world that if in some squares and streets is fantasy, it is also reality. Unbeatable graphic expressions, above time and space, being supported by the roots of our and our inhabitants; also for those who take their own anecdotes in each of these photographs.
We begin with this visual tour, which we could well define as a monument to oblivion. We will describe those places of the past and that in the present continue to dazzle. So play the retro music that you like the most and let yourself be carried away by the Guanajuato of another era.
Plaza del Baratillo
With its characteristic and beautiful Florentine fountain, framed by colorful mansions with detailed facades of stone and pink quarry. In the background, we see a Ford car. At that time, there was no rail outside the source.
Alhóndiga de Granaditas
A postcard that shows different steps of the monumental Alhóndiga de Granaditas. The tricolor pennants on the lanterns indicate that national days were celebrated.
Castillo de Santa Cecilia
The amazing and majestic castle of Guanajuato. Since its construction it was destined for a hotel, and currently it continues in function, representing a unique and medieval accommodation.
Presa de la Olla
Opening of the gates during the celebration of the San Juan and Presa de la Olla Festivities, one of the most deeply rooted celebrations for the inhabitants of Guanajuato capital.
Plaza de la Paz
A perspective captured from one of the towers of the Basilica of Guanajuato. At that time there were four lighthouses that illuminated that recognized triangle located in the center of this square.
Tepetapa Bridge
Its imposing and monumental architecture never ceases to amaze us.
Campanero
View of the bridge on Calle Campanero, one of the city's architectural gems. By the side ramp you go up to the Tecolote alley.
Callejón del Beso
Admired for its rare narrowness, which makes it truly unique. We suppose that at that time that legend that we know today did not yet transcend. However, we notice the brilliance of this great corner.
Pípila
Monument to El Pípila, located in one of the highest parts of the city. From that place you can see in a panoramic perspective the center and its surroundings of Guanajuato.
Jardín de la Unión
Photograph captured from the steps of the Juárez Theater. One of the details that stand out the most is the type of earthenware that the Union Garden had, which in those days dominated red squares with yellow stripes.
Pastitos
A predominantly white color in the few houses that existed at that time, whose surroundings give an air of a European port.
Source: funicular.mx